Soundness with Sayde Yoga
Om Shanti. Welcome.
 Welcome to Soundness With Sayde.
Welcome to yoga in the Cedar Rapids area.
Welcome to the opportunity to enhance your life inside and out.
Welcome to a soundness of body, mind and spirit.
Welcome to right now.
Schedule
Pay Online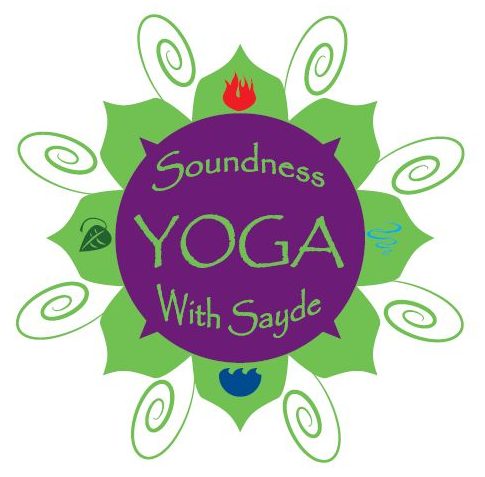 Some of us need yoga to find peace of mind.
Some of us need yoga to regain freedom we felt in our bodies as children.
Some of us need yoga to build strength.
Some of us need yoga to learn how to just sit and breathe. 
Yoga is more than breathing.
Yoga is more than stretching.
Yoga is a total health experience.
Eight to eighty, small to large,
yoga is for every-body!
Soundness With Sayde
can easily be invited into your life.
Sayde teaches adult, prenatal, baby, and kid's classes in the community.
Soundness with Sayde Yoga Classes: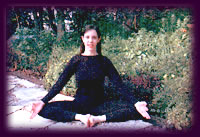 Sunday       10:00 am
Monday     5:15 pm
Monday     6:30 pm (Intermediate)
Please sign up on Schedulicity below to stay current with available classes and cancellations.
Click on "Classes" to get started. Call Sayde at 319.447.9566 to try your first class for FREE. We'd love to see you there.
Mercy Hospital 3rd Floor Classroom- Register HERE  
Wednesdays, 5:15-6:15 pm
Summer 

May 30-August 8, 2018
May 30
June 6, 13, 20
Aug 1, 8
You do not have to be scheduled for delivery at Mercy Hospital in order to join us!
$7.00 per week per class – pay each week at the door
Use the covered parking on 8th Street at 8th Ave and come up to 3rd Floor North.
Like all yogic practice, prenatal yoga focuses on postures (asana), mental focus (dharana), and breath (pranayama) to keep your body, mind, and spirit healthy during your pregnancy.
Proven to keep back and joint pain away, the asanas that we focus on keep your joints aligned and muscles strong. Dharana takes your focus off of your ever-changing body and eases the birthing process. Pranayama leads to relaxation and dispersion of hormones which keeps you serene. The practice of prenatal yoga, also, helps your body return to a toned and lean state faster, post-partum.
Doctor's permission is required before participation, though most previous conditions can be worked through during prenatal yoga. This class is about pregnancy, for pregnant moms, so join us. It is a treat for yourself and baby!
Watch for new dates comign soon.
---
Baby and Me Yoga invites moms and/or dads to practice yoga with babies from ages 6-weeks to 2 years. This class is just long enough to gain balance, without being too long for baby. It's a play group with spirit. Feel free to bring a blanket or bottle for feeding and your own mat.
This is a class about families, for families. The little members mostly "ooh" and "aah" in fascination with what the older babies and parents are doing. The older babies are encouraged to try what they can and are allowed to wander to other mats to make new friends. We have seen plenty of "firsts" (rolling over, crawling, singing) and we look forward to seeing your family come play yoga.
Classes are held in the Studio at Illuminations
Watch for new dates coming soon.
---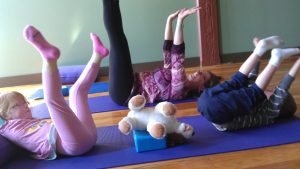 $10 for 1, $15 for two…applies to classes and kids.  The 1st class is $10 for one child to drop-in, or $15 for two.  If you want to save money, pre-pay for 2 class in the month for only $15 for one child.  Cash, check or PayPal.  Props & mats are available onsite.
The Studio at Illuminations – in the Historic Cherry Building
329 10th Ave SE, Suite 115, Cedar Rapids, IA 52401
---
Let your child find the fun and focus that a yogic practice can bring. Yoga for Kids is full of exploration for your child.  Recommended for ages 4-12, though siblings and friends can come together regardless of age.  For sensitive, shy or the youngest children, we welcome the parents to stay and join.
Each 45 minute session will include breathing, game-playing, reflection and a handout to take home! There will be snack time following. We will draw, move, inhale, exhale, and extend. Themes for each week will build upon each other and will include:
Create your own yoga posture
A jungle comes to life
Good morning, sun (sun salutation)
Building together (partner yoga)
How long (breath capacity).
Sayde has a multitude of experience with youth. Her resume includes:
American Childcare, Inc., private childcare in the Chicago hotels, supervisor for group childcare programs
Youth Leadership Program, after-school and summer camp program facilitator, curriculum development
Kennedy Swim Instruction, private swimming lessons for toddlers and young adults
Outdoor Adventure Leader, group activities leader for Trust Course
Childcare giver, in-home care for individual families
We look forward to seeing you there!
Corporate Yoga
With a little bit of space and organization, the workplace can be tranquil. Before the classes begin, participants are contacted and each person's needs are taken into consideration; even special needs are accommodated. You do not have to know your co-workers well to enjoy spending this time together. Leave work with a smile on your face.
Class times available over the lunch hour or after work. Many insurance programs are offering discounts to those businesses offering preventative health care options. Look into it!
From $70 per 45-70 minute session
One on One Yoga
There's no need for commuting, parking, or even putting on your shoes. The only thing that is required is about 4×8 of floor space.
An individualized yoga class, complete with props, will arrive at your door. The class regimen will be tailored to your own personal needs and syallabi will be created for you, with addendums to follow. Up to two of your friends may also be invited to revel in the peace of an individualized yoga workout.
Private sessions last from 45 minutes, to 1 hour 15 minutes, depending upon your scheduling needs.
from $60 per 45-75 minute session